Vendors
Parker County Peach Festival is a registered, legally protected trademark of the Chamber of Commerce
2019 Peach Festival Vendors
(Scroll down to see the list of Vendors)
APPLICATIONS FOR 2020 PEACH FESTIVAL VENDORS NOW AVAILABLE!
The 36th Annual Peach Festival is Texas Premiere one-day event that celebrates the sweet, juicy and fragrant Texas Peach, that showcases hand-made, hand-embellished arts/crafts, food and activity vendors. This festival is not intended to be a business showcase event. If a business wishes to participate in the festival, sponsorships are available through the chamber.
The Peach Festival will be on Saturday, July 11th from 8:00 a.m. to 4:00 p.m. in beautiful Historic Downtown Weatherford, TX.
Applications are now being accepted for new vendors, please review the Peach Festival Terms & Conditions before applying.
2020 Terms & Conditions and New Vendor Application
2020 Terms & Conditions and Returning Vendor Application
Electricity is highly limited, so be aware that we may not be able to accomodate your request. Generators are not allowed. Form is to be submitted with application and ALL appliances must be listed with amperage use.
You may email entire packet in pdf. format and with credit card information to This email address is being protected from spambots. You need JavaScript enabled to view it.
Late fees if postmarked after the dates listed:
April 1..............$35.00
June 1..............$50.00
July 1...............$75.00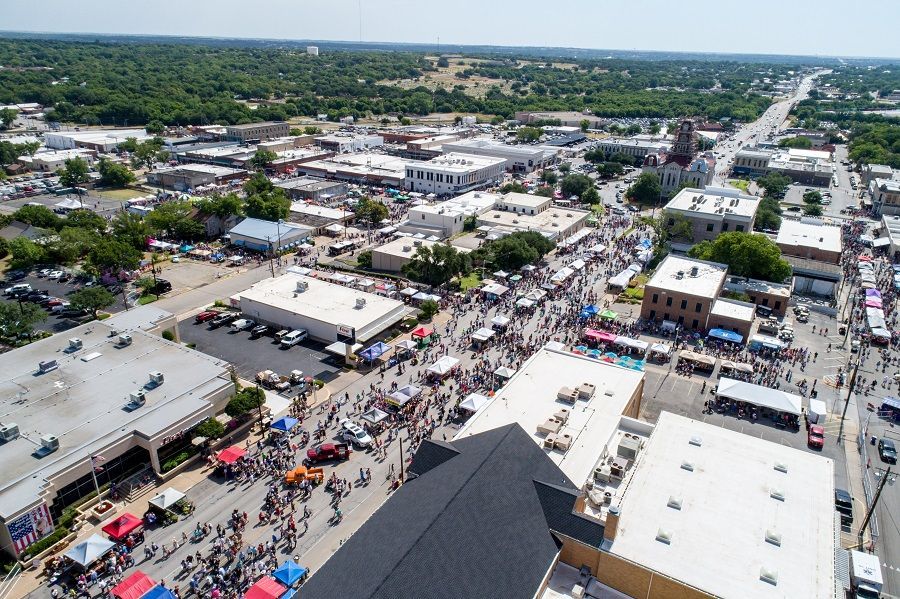 2019 Peach Festival Vendors
| | | | |
| --- | --- | --- | --- |
| 03 Home Solar | 1 of One | 1836 Finery & Frock | Airheads Party Rentals |
| AJ's Ice (Repicci's Italian Ice) | All Blinged Up | Alzheimer's Association | Amadeo Cuisine |
| American Duke Apparel | Awe Shucks, LLC | B & G's Garden | Bailey & Galyen |
| Barlett Puppets | Bayou Billy Tea | Beard Commander | Belle's Wood Fire Pizza |
| Blessings Recycled | Brockhouse Jerky | Busbee Enterprises | C & I Woodworking |
| Campbell's Family Concessions, LLC | Casey Duck Calls | Center Point Renovations/Bath Planet | City of Weatherford/Water Utilities |
| Cleggcraft | Coby Sohn/One Family Ministries | Comfort Kitchen To Go | Cook Children's Health Care System |
| Cotton Tops | Cout's Memorial UMC | Crafts by Judy | Crawdad Cuties |
| Creative Accents | Cristi & Ali Cuisine | Crow & Sparrow Wares | Culligan Water |
| Danny Boy Enterprises | Dan's Bird Feeders | Denzel Holmes | Doc's Street Grill |
| Don Manning Western Specialties, Inc. | EPG Photographer | Epic Orthodontics | Events by BJ |
| Fancy Feet, Etc | Festival Foods of Parker County | Fletcher's Originial State Fair Corn Dogs | Forgotten Arts Quilts |
| Frames and More | Frutiland Gourmet | Fryday Concessions | Funky Munky Shaved Ice, LLC |
| Future Hope, Inc. | Gilbert Pecan Co. | Glory Stones | Grandma Lu's Gourmet |
| Graphic Dips | Great River Maple | Gumbo Express | Hair Halos |
| HallCraft | Hambone and Dogs Pet Treats | Hanchey Leather Goods | Hand Poured Hope Soy Candle Co. LLC |
| Handmade from the Heart | H-E-B | Holy Ghost Outreach Ministries, Inc. | Home Depot |
| Hope Boutique | Hutton Fruit Farm | Illary Peru | Jerry's Cadillac |
| Just Tigging Around | Kactus Hats | Kim's Cross Art | Klowns on Fire, LLC |
| Knives & Wives | Kristi Clark Jewelry Designs | Later Gater Catering | LeafFilter North of Texas, LLC |
| Legacy Concepts & Designs | Life Gave Us Lemons | Life is Grand | Little Stitches |
| Livi's Boutique | Lollie's Revivals | Lone Star Pain Medicine | MACHUPICCHU |
| Mad Dash Mixes | Main Street Dental | Mai's Crafts | Mama G's Creations |
| Marblies/NameFrames | McAlister's Deli | Medical City Weatherford | MeMaws |
| Merci Handmade Vintage | Mike's Seasonings | Mimi's Gift Closet | Mom's Fried Pies |
| Mr. Wigglebottoms | Ms. Piggy's Catering | Mudpuddles & Dandelions | My Little Tutu |
| Nanny's Best | Nature's Mosquito Repellent (NMR) | NeckcoolersRus/Shop Mrs. E | Nikki's Popcorn Corner |
| Notch Farms | Of The Rose Boutique | Old Paint Artistry | Old Time Funnel Cakes |
| Parker County Office of Emergency Management | Parker County Pets Alive | Pecos Pete's Soda | Petwants Chisholm Trail |
| Planet Fitness | Pokey O's of Tarrant County | Pop's Peaches | Poston Farms |
| Pottery Conceptions | Punky's Garden | Rachels Texas Kitchen | Red River Traders |
| Renewal By Andersen | Rhinestones and More | Rockin T Creations | Round Rock Honey Co. Dallas |
| Ruble's Creations | SanaLoma Laser, LLC | Santa Fe Terra | Schorlemer Haus |
| Shep's Place | Simply Unique | Small Town Front Porch Designs | Smitten Designs |
| Soaking Stone Coasters | Somebody Special Calls Me.... | South Texas Beef Jerky | Southern Miss TX |
| Southern Roots | Southwest Treasurese | Spark Solar | Spicewood Gourmet Foods/E.P. Sales, LLC |
| Splinters &Threads | Statewide Remodeling | StuckNStone | Susie's Snack Shop |
| Sweet Southern Art | Sweetie's Cheesecakes | Tate Designs & Woodworking | Tattered Wings & Rusty Halos |
| Ted Kamel Foods, LLC | Tejas Cigar Box Guitar Co. | Texas Army National Guard | Texas Backyard |
| Texas Hill Country Olive Company | Texas Pottery Supply & Clay Co. | Texas Toffee | The Arbor Store |
| The Branded Paw | The Cookie Crave | The Lasik Vision Institute | The Pink Company |
| The Spunky Goat | The Tie Dye Shop | The Turquoise Daisy Boutique | Three Sacred Oaks |
| Tie Dye and Treasures | Tikiz Shaved Ice & Ice Cream | Tiled Art | Tina's Treasures |
| TLC Living | Totally Nutz | Tracy Lawson Books | Trimble Sales |
| USA Plate Art | Victoria's Candied Peppers | V's Floral Decor & More | Waco Handcrafted |
| Wagon Wheel Forge | Wal-Mart | Weatherford Art Association | Weatherford College |
| Weatherford Optimist Club | Weatherford Parker County Animal Shelter | Wenzel Lonestar Meat Company | West Fork at Weatherford |
| White Beard's BBQ | Wild West Trading Post | Wild Wren | WMS EZCORER |
| Wyler Greenhouses | Yvette Custom Jewelry | | |