Parker County Peach Festival Information
Location: Historic Downtown Weatherford, Texas
Date: Saturday, July 10, 2021
Time: 8:00 a.m. to 4:00 p.m.
How To Get Here
Take I-20 to exits 403, 406, 408, 409 A or B, 410 or 413.
We recommend one of our convenient FREE Air Conditioned Shuttle Buses located at the following parking lots at:
9th Grade Center (The Old Weatherford High School) – 1007 South Main Street
Weatherford College - 225 College Park Drive
First Monday Trade Days Grounds (PARKING ONLY, NO SHUTTLE) - Santa Fe Drive/Hwy 180
Handicap parking/shuttle is available at the Ninth Grade Center, at City Hall, right outside the Palo Pinto Street Festival entrance or on Spring St. behind the First National Bank Drive-thru
Map of Event Area
Click the image to enlarge.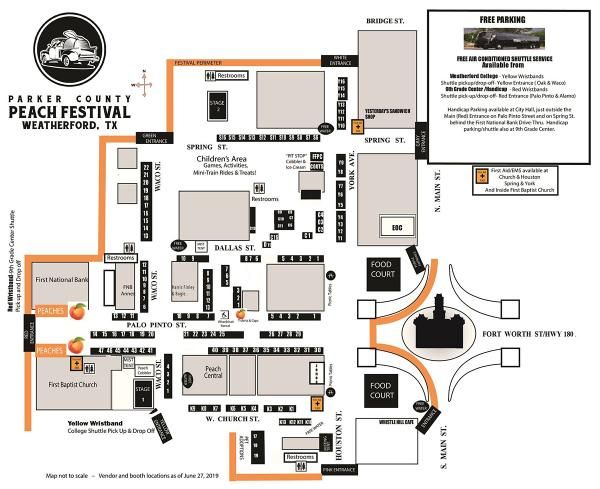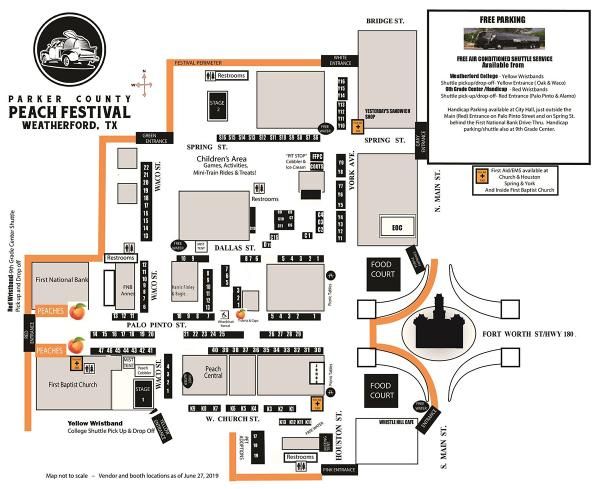 Pet Attendance Discouraged
Please note that we do not encourage pets at the Festival as the streets and parking lots can be too hot on their paws!