Parker County Peach Festival Information
Location: Historic Downtown Weatherford, Texas
Date: Saturday, July 8, 2023
Time: 8:00 a.m. to 4:00 p.m.
How To Get Here
Take I-20 to exits 403, 406, 408, 409 A or B, 410 or 413.
We recommend one of our convenient FREE Weatherford ISD Air Conditioned School Buses with the following conditions:
School premises, activities, and transportation: Absent written regulations or written authorization from the school district, the Texas Penal Code prohibits citizens, including handgun license holders, from carrying firearms (or other prohibited weapons) on the physical premises of a school or educational institution, any grounds or building where a school activity is taking place, or on a bus or other passenger vehicle of a school.
Tex. Penal Code § 46.03(a)(1).
School buses are located at:
9th Grade Center (The Old Weatherford High School) – 1007 South Main Street - 76086

Handicap parking/shuttle is available at the Ninth Grade Center
Handicap Parking at the North & South East quadrant of the square

Weatherford College - 225 College Park Drive - 76086
Heritage Park - 317 Santa Fe Dr. 76086
FREQUENTLY ASKED QUESTIONS:
Where are the Porta-Jons located?
Spring & Waco St.
Houston & Church St.
Dallas St.
First Baptist Church, including diaper changing station
Where are the two stages located:
Spring & Waco St.
First Baptist Church parking lot on corner of Church & Waco
Where can I buy Peaches?
​Palo Pinto St.
Bridge St.
York & Dallas
Waco St.
Where can I buy Peach Cobbler and Peach Ice Cream?
​Peach Cobbler:
​Corner of York & Spring
Corner of Church & Dallas
Corner of Waco & Palo Pinto
Peach Ice Cream:
​Corner of York & Spring
Northwest Quadrant
Where can we go to cool down?
​First Baptist Church, located at Palo Pinto St. The gym will be open for folks to come in and cool off.
Oasis Spots, which will be handing out FREE water. There are also many misting tents located throughout the festival.
Where do I catch the shuttle back to our Remote Parking location?
Shuttle pick-up/drop-offs are at:
Weatherford College/W. Oak & Waco St.
Ninth Grade Center/ W. Oak & Waco St. This is also handicap accessible.
Heritage Park- Palo Pinto & Alamo St.
Where is the Lost & Found located?
Items can be turned in at "Peach Central", located at 119 Palo Pinto. After the Festival, items will be taken to the Chamber of Commerce at 401 Fort Worth Hwy 76086
Where is the Children's Area?
We now have two children's area! Carousel, Tubs of Fun ride, bounce houses, Maze and Choo-Choo Train.
Children's area 1 is on the corner of York & Dallas St.
Children's area 2 is on the corner of Church & Alamo
Safety Notice:
No large ice chests or coolers
Map of Event Area
Click the image to enlarge.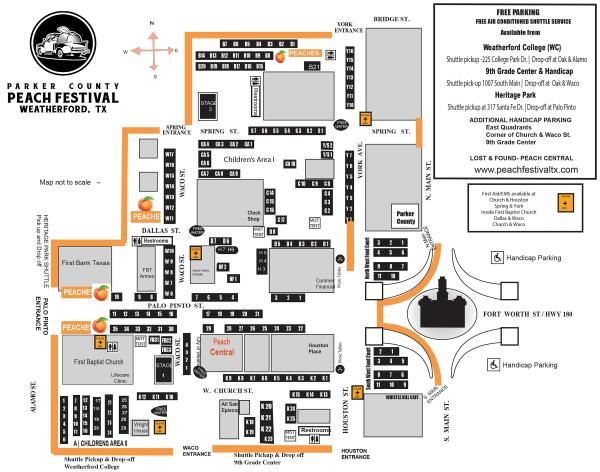 Pet Attendance Discouraged
Please note that we do not encourage pets at the Festival as the streets and parking lots can be too hot on their paws!